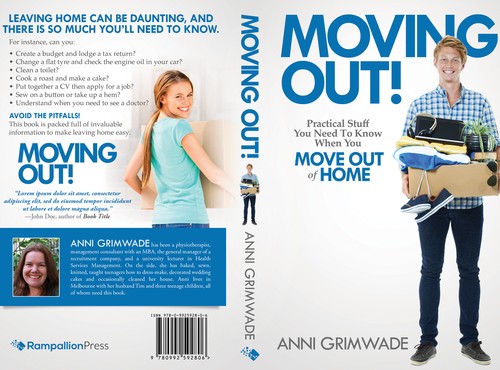 Moving Out! by Anni Grimwade provides a list of practical tips a teenager will need when they move out of home.
About the Book
Kids moving out? Or you want them to? Give them this book and send them on their way! This new book covers all those practical skills you've been trying to teach your children and has every handy tip that children finishing school or leaving home need to know. Moving Out! will teach your children how to cook something better than cup noodles and cereal, how to find a place to live in and how to clean it, how to care for their clothes, look after their health, manage their finances and look after their car. A quick read will teach them how to sew on a button, look after a drunk friend, prepare a CV, cook a perfect steak and know if they really need to see a doctor. It is designed as the perfect gift for 18-25 year olds who are heading off to college or moving out into their own place. Finally.
About the author 
Anni Grimwade started professional life as a physiotherapist in Melbourne before becoming a management and productivity consultant in Sydney. After completing her MBA at Stern Business School N.Y.U. and moving to Hong Kong, she worked as the general manager of a recruitment company and subsequently as a university lecturer and programme leader before the handover of the colony to Chinese rule in 1997. During a 5-year stay in Jakarta she undertook freelance editing work, and then returned to Melbourne with a growing family where she was able to resume a range of management consulting assignments. She has an Applied Science degree in Physiotherapy and an MBA in International Business. Throughout these different careers, she has baked furiously, qualified as a wedding cake decorator, opened a holiday sewing school for teenagers, become the spreadsheet queen of budgeting for family and friends, and cleaned her house begrudgingly. She is quite good at French, not too bad at Indonesian and tries her hand at speaking 'Teenager' as well. Anni lives in Melbourne, Australia with her husband Tim and three teenage children, none of whom listen to her. She will give them each a copy of this book.
About the project
Julie from iinspire media mentored Anni step by step in the self-publishing process which including writing goals, editing, proofreading, cover design, layout, publishing on Amazon (both as printed versions and Kindle versions), printing and website creation.  Anni went on to create her next book, Leaving Home! Practical Stuff to Help You Survive in College and Beyond.  
You can view Moving Out! on Amazon here.